Baby Teething Toys
Gummee Teether Toys all come with FREE Delivery in the UK
Baby Teether Products by a Family Run Business
Safe, easy to clean, premium quality solutions for Happy Teething babies.
Hi! We're the Boothbys and we run our beloved brand of baby teething toys from home. Our business started when our first born started teething from an early age and was too young to hold a teething toy. Jodine (AKA Gummee Mummee) wondered why there wasn't a teething toy on the market that was designed for babies who are too young to hold a teether, so the Original Gummee glove teething mitten was born! Being parents with an obsession for safety, quality and helping to make parents and babies lives easier, we understand that one size doesn't fit all, especially with little ones.
That's why we've designed a whole range of products for every stage of teething.
Each Gummee product is made specifically for little hands and little mouths, at exactly the time they need it.
From birth to toddler, every part of the teething journey is covered, giving babies' little gums and teeth the best possible start.
You, our customers, are like royalty to us. Without you, there would be no us, so we are at your service.
We're always on hand (see what we did there? ;) ) to answer any questions you may have, whether it's here on our website or through any of our social media channels. Alternatively, feel free to check out our Frequently Asked Questions, here: FAQ's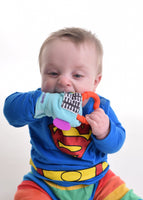 Gummee glove teething mitten
Baby always chewing on their hands? Our revolutionary teething mitten is designed for babies who are too young to hold a teething toy but may be showing early teething symptoms.
More info